Madame de Maintenon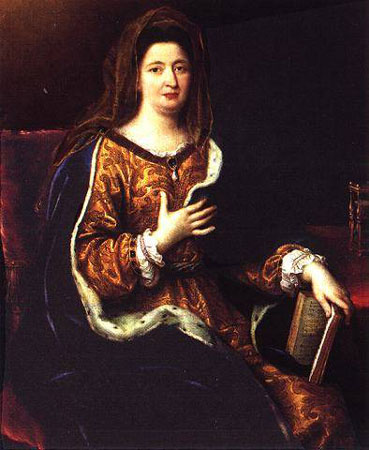 marquise (Niort 27 nov. 1635 – St-Cyr 15 april 1719), tweede – morganatische – echtgenote van
Lodewijk XIV
, was een kleindochter van de hugenotenleider d'Aubigné. Zij werd katholiek gedoopt, aanvankelijk protestants, later (op kostschool) katholiek opgevoed. Door haar huwelijk (1652–1660) met de veel oudere en gebrekkige dichter Scarron kwam zij volop met het geestesleven van haar tijd in contact. Als gouvernante van de kinderen van
Françoise de Montespan
en Lodewijk XIV (sinds 1669) kreeg zij grote invloed op de koning, die haar in 1674 het landgoed Maintenon als markiezaat schonk. Zo bewerkte zij na de dood van zijn laatste maîtresse,
mademoiselle de Fontange
, zijn terugkeer tot de koningin (1681). Toen deze overleden was, huwde Lodewijk XIV haar in het geheim (1683). Haar invloed, vooral in kerkelijke aangelegenheden, was zeer groot en had een antiprotestantse strekking. Na de dood van Lodewijk XIV (1715) trok zij zich terug in een door haar gestichte kostschool voor dochters van verarmde adel te St-Cyr.

De Mémoires pour servir à l'histoire de Mme de Maintenon (6 dln., 1755) en de Lettres de Mme de Maintenon (9 dln., 1756), beide uitgegeven door La Baumelle, geven opzettelijk een verkeerd beeld van de markiezin. Een betere uitgave van haar brieven is die van Lavallée (8 dln., 1854 vv.), later gevolgd door die van M. Langlois (4 dln., 1935–1939).

copyright (tekst) - Microsoft Encarta '99
Maintenon, Françoise d'Aubigné, marquise de (marchioness of), byname MADAME DE MAINTENON, also called (1652-75) FRANÇOISE SCARRON,
née
FRANÇOISE D'AUBIGNÉ (baptized Nov. 28, 1635, Niort, Poitou, Fr.--d. April 15, 1719, Saint-Cyr), second wife (from either 1683 or 1697) and untitled queen of King

Louis XIV of France. She encouraged an atmosphere of dignity and piety at court and founded an educational institution for poor girls at Saint-Cyr (1686).
She was born at Niort, in Poitou, perhaps in the same prison where her father, Constant, was then incarcerated for debt; the infant was baptized as a Roman Catholic in November 1635. Constant, the son of

Agrippa d' Aubigné, a great Huguenot soldier and companion of Henry IV as well as a poet, possessed neither his father's talents nor his virtues. His child, Françoise, received a Calvinist upbringing until the age of seven at the Château de Mursay, supervised by her aunt Villette, Agrippa's favourite daughter.
Constant was freed in 1645, and the Aubigné family embarked on a journey to the West Indies, for Constant believed he had been made governor of the island of Marie-Galante. The post was not vacant, however, and Constant returned to France, leaving his family in Martinique, where they were to remain for close to two years before being able to return. Constant died in France in 1647. Françoise was entrusted once more to her aunt Villette's care, but another aunt, Mme de Neuillant, a Catholic whose daughter was Françoise's godmother, claimed the child. Françoise was forced to go to this unknown relative, who raised the child sternly.
When Françoise was 16, her mother died. Anxious to rid herself of the orphan, Mme de Neuillant arranged for her charge to live with the crippled author

Paul Scarron, who was 25 years older than the girl. Françoise married him in 1652 and later said of this relationship: "I preferred to marry him rather than a convent." In addition to nursing the author, she also had to preside over his salon, where an extremely varied group was received. The marriage was probably unconsummated. The author of
Le Roman comique
was a rascal, and, although he may have formed his young wife intellectually, he also undoubtedly tried to corrupt her. Meanwhile, the men who frequented his salon did not hesitate to try their luck with his little wife, who skillfully practiced the art of flirtation until, at last, in 1660, she found herself a widow--free but without a sou. She was then 25 years old and beautiful. She was at first tempted to embark on a courtesan's life, but instead she took a room in a convent and, in this semi-retreat, lived the cultured and well-mannered life of a
précieuse,
zealous of her reputation. As the hostess of the Scarron salon, she had made powerful friends, with whose help she had obtained from Anne of Austria, the queen mother, an allowance of 2,000 pounds. Although later she was to be credited with many lovers, the widow remained discreet and was regarded as wise, rather devout, and even somewhat prudish.
In 1668 she was given a chance to improve her fortunes. One of her friends, the

Marquise de Montespan, had become the King's mistress. Having supplanted the shy Louise de La Vallière, the Marquise was soon to become pregnant. As she was already married and the King did not wish a scandal, he decided that the birth was to be kept secret. For this purpose he required a trustworthy person to receive and hide the child, a delicate task requiring both ability and discretion. Scarron, displaying her prescience, agreed and thus began her surprising rise to power. The child was born in March 1669 and was followed by many others. After the third, the family moved to a house in Paris, where the King made occasional visits and met Scarron, then 36 years old. Louis XIV was three years younger.
The King recognized his illegitimate children by Montespan in December 1673. He gathered them around him, with their governess, at his residence in Saint-Germain. Because of the King's generosity, Scarron was able to purchase the Château de Maintenon in December 1674. At the beginning of 1675, Louis XIV bestowed the title of her lands upon her. In December 1679 the Marquise de Maintenon was made second lady-in-waiting to the wife of the Dauphin. She was thus able to put aside her responsibilities for the royal children and to become independent from Montespan, with whom, for some time, she had been having a stormy relationship.
After the Queen's death on July 30, 1683, Louis XIV was to have only one woman in his life: "la Scarron," as she was always called by her enemies. He married her, according to some, in October 1683 and according to others in April or May 1697. Some historians maintain that Louis XIV married Maintenon to consummate the relationship, while others believe that the King was only regularizing a liaison whose beginnings went back either to 1673 or 1678, but more likely to 1680. Whatever the date may have been, if the marriage took place in 1683, Louis XIV and his companion had a union that lasted 32 years, 16 of them before 1700, the year in which Charles II, king of Spain, died. The latter having left his kingdom to the Duke of Anjou, Louis XIV's youngest son, France then found itself engaged in a deadly war, which was to mark the beginning of the reign's decline.
The precise date of the marriage is only important for the determination of Maintenon's political role, for many have blamed her for Louis XIV's errors and faults. In reality, her influence was negligible prior to 1700 and quite prudent during the last 15 years of Louis XIV's reign. Maintenon did not have the smallest part in the Revocation of the Edict of Nantes in 1685, which denied all rights to Protestants in France. Indeed, the secret wife of Louis XIV was the only one to establish and maintain a climate of decency, dignity, and piety around her husband. Her role, all things considered, can be seen as beneficial, except for the

Quietism affair, when she was to join forces with Bishop Jacques-Bénigne Bossuet in persecuting François Fénelon.
At Saint-Cyr, near Paris, she founded the Maison Royale de Saint-Louis (known simply as Saint-Cyr), an institution for the education of impoverished young women of the nobility (1686). Racine's dramatic poem

Esther
was written for performance at the school. At first Saint-Cyr was considered fashionable. There Maintenon often sought to escape the restraints of the court and to put into practice the pedagogical talents she was convinced she possessed. To this day, many recognize that she did indeed have these talents. After the death of Louis XIV in 1715, his widow took ill and eventually died in her Saint-Cyr refuge. She survived him by four years, a stranger to the new era, and died in 1719.
Hated by some, revered by others, Maintenon never ceased to kindle violent emotions. To this day she is depicted in textbooks as greedy and evil, a narrow-minded bigot. It would be true to say that she was an ambitious woman who had an exceptional destiny and did not do too badly with it. Her letters are still read with interest, and, in his exile at St. Helena, Napoleon I professed to prefer them to those of Mme de Sévigné.
BIBLIOGRAPHY.
The most complete study, unfortunately not translated, is Jean Cordelier, Madame de Maintenon, une femme au grand siècle (1955), a tentative psychological explanation based on the factual and historical details known today. On the early years, Emile Magne, Scarron et son milieu, 3rd ed. (1924), furnishes interesting details. Marcel Langlois, Madame de Maintenon (1932), is a slightly confused, but indispensable work in spite of the contradictions that reflect the mixed feelings of the author toward his heroine. Finally, basic to all serious study are the Lettres of Maintenon, published in four volumes by Marcel Langlois but incomplete (1935-39). Little has been published on the subject in English; however, Mme Saint-René Taillandier, Madame de Maintenon (1920; Eng. trans. 1922), is worth reading.
Copyright 1994-1999 Encyclopædia Britannica