Marie-Thérèse d'Autriche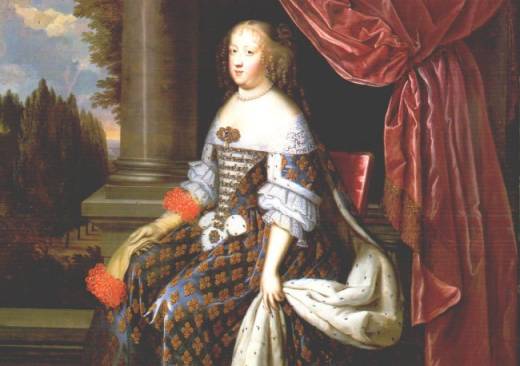 (Madrid 10 sept. 1638 – Versailles 30 juli 1683), koningin van Frankrijk, uit het Habsburgse Huis, was een dochter van Filips IV van Spanje. Zij trouwde in 1660 met
Lodewijk XIV
ter bezegeling van de Vrede van de Pyreneeën. Hoewel zij afstand had gedaan van de rechten op de Spaanse troon voor zichzelf en haar nakomelingen, werden die de aanleiding voor de Devolutieoorlog en de Spaanse Successieoorlog. Na de dood van Lodewijks laatste maîtresse (1681) bracht
Madame de Maintenon
hem weer tot de koningin terug.

copyright (tekst) - Microsoft Encarta '99
Marie-Thérèse OF AUSTRIA, French MARIE-THÉRÈSE D'AUTRICHE, Spanish MARÍA TERESA DE AUSTRIA (b. Sept. 10, 1638, El Escorial, Spain--d. July 30, 1683, Versailles, Fr.), queen consort of King

Louis XIV of France (reigned 1643-1715).
As the daughter of King Philip IV of Spain and Elizabeth of France, Marie-Thérèse was betrothed to Louis by the Peace of the Pyrenees (1659), which ended a 24-year war between France and Spain. Under the terms of the pact, she agreed to renounce her claim to succession to the Spanish throne in return for a large dowry. The couple was married in June 1660. On the death of Philip IV and the accession of young Charles II to the Spanish throne in 1665, Louis XIV claimed that since Marie-Thérèse's dowry had never been paid, her renunciation was void. Accordingly, he conquered part of the Spanish Netherlands in his wife's name (War of Devolution, 1667-68). Meanwhile, Marie-Thérèse had proved unable to hold Louis's affection. A year after their marriage he took the first of a succession of royal mistresses. The queen suffered his infidelities in silence, and on her death Louis is reported to have said, "This is the only trouble she has ever caused me." Of Marie-Thérèse's five children, only one, the dauphin Louis (d. 1711), lived to maturity.
Copyright 1994-1999 Encyclopædia Britannica