Hector de Villars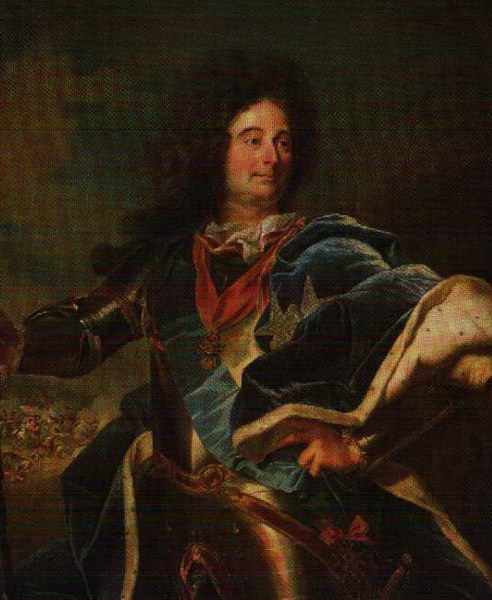 Villars, Claude Louis Hector de
, hertog (sedert 1705) (Moulins 8 mei 1653 – Turijn 17 juni 1734), Frans veldheer, streed in de Spaanse Successieoorlog. Als luitenant-generaal versloeg hij de markgraaf van Baden bij Friedlingen, waarna zijn soldaten hem tot maarschalk van Frankrijk benoemden, wat door
Lodewijk XIV
werd bekrachtigd (1702). In 1703 overwon hij de Oostenrijkse troepen bij Hochstädt. Vervolgens kreeg hij het opperbevel over de legers die uitgezonden waren om de camisards in de Cevennen te tuchtigen (1704–1705) en streed daarna weer in Duitsland. In 1709 kreeg hij het opperbevel over de Franse legers in de Zuidelijke Nederlanden, waar hij echter tegen de Oostenrijker prins Eugenius van Savoye en de Engelse hertog van Marlborough de grote nederlaag bij Malplaquet leed (1709). In 1712 behaalde Villars een overwinning op de Nederlanders en Oostenrijkers (geleid door Eugenius) bij Denain. In 1714 werd hij lid van de Académie Française. Na de dood van Lodewijk XIV maakte hij deel uit van de regentschapsraad. Op hoge leeftijd voerde hij het bevel over de Franse legers in Italië gedurende de Poolse Successieoorlog, waar hij Milaan en Mantua veroverde (1733).

copyright (tekst) - Microsoft Encarta '99
Villars, Claude-Louis-Hector, duc de (duke of) (b. May 8, 1653, Moulins, Fr.--d. June 17, 1734, Turin, Italy), French soldier, King Louis XIV's most successful commander in the

War of the Spanish Succession (1701-14).
The son of an army officer turned diplomat, Villars distinguished himself as a colonel of a cavalry regiment in Louis XIV's war against the Dutch (1672-78). He was made a commissary general of the cavalry upon the outbreak of the War of the Grand Alliance (1689-97) between France and the other major European powers. In 1698 he became ambassador to Vienna.
Three years later the dispute over the succession to the Spanish throne brought France and Spain to war with the British, the Austrians, and the Dutch. Assigned to protect Upper Alsace from invasion, Villars crossed the Rhine and severely defeated the forces of Louis of Baden at Friedlingen (October 1702). His troops then hailed him as a marshal of France, and Louis XIV granted the appointment and gave him the command of the French army in Germany. Although Villars defeated an Austrian army at Höchstädt an der Donau in September 1703, he asked to be recalled after quarreling bitterly with his ally

Maximilian II Emanuel, elector of Bavaria, who had rejected his plan for a march on Vienna.
Villars was fighting Huguenot rebels (Camisards) in the Cévennes in southern France when the British general
John Churchill, 1st Duke of Marlborough, and the Austrian commander Prince

Eugene of Savoy inflicted a catastrophic defeat on Franco-Bavarian forces at Blenheim in August 1704. The following year he was made a duke and sent back to the Rhine to prevent Marlborough from invading France. He crossed the Rhine in 1707 and advanced deep into Swabia before being forced to retreat.
Appointed commander of the severely demoralized French forces in Flanders in 1709, Villars inflicted extremely heavy casualties on the armies of Marlborough and Prince Eugene at the
Battle of Malplaquet on September 11. Because Marlborough would not risk another such encounter, France was saved from invasion. After Marlborough lost his command, Villars defeated Prince Eugene at Denain (July 24, 1712), thereby ending the struggle in Flanders. Returning to the Rhine, Villars captured Landau and Freiburg in 1713 and then concluded with Prince Eugene the Treaty of Rastatt (March 1714), which became part of the final peace settlement of Utrecht. (see also
Index
:

Rastatt and Baden, treaties of)
Villars was a member of the Council of Regency in the opening years of the reign of young Louis XV (ruled 1715-74). At the beginning of the War of the Polish Succession (1733-38) he was given the exceptional title of marshal general of France and sent to attack Austrian possessions in northern Italy. He died less than a year later.
BIBLIOGRAPHY.
Claude C. Sturgills, Marshal Villars and the War of the Spanish Succession (1965).
Copyright 1994-1999 Encyclopædia Britannica